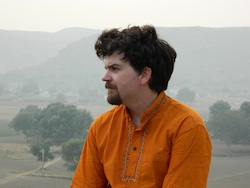 <!img src="Images/brendan_rajasthan2011_thumb.jpg" height=188 width=250 border=0><!/a><!/center>
Brendan D. Gregg
G'Day. I use this homepage to share some hobbies and my work with computers. These days I work on large scale computer performance, and live in the San Francisco Bay Area. I have a personal blog, and I'm also on twitter<! and a href="http://www.linkedin.com/pub/brendan-gregg/1/3a8/3" linkedin /a>. Here is my bio and anti-bio. The site map summarizes what's on this site.

Documentation
In approximately reverse chronological order:
Videos
Software
These are some small software projects I've developed in my spare time. (I've also developed software as a professional kernel engineer, which isn't listed below, including the ZFS L2ARC.) The following are open source with no warranty – use at your own risk. Some are computer security tools, which may be illegal to own or run in your country if they are misidentified as cracking tools.
Unix/Linux - C
Dump2PNG visualizes file data as a PNG (uses libpng). An experimental tool intended for core dump analysis. screenshot.
nicstat network interface stats for Solaris (uses Kstat). example. There is also a Perl version, and Tim Cook added Linux support.
Fastburden is a performance testing tool that can generate a flood of client web traffic (multithreaded), from web access logs. example.
Linux - profiling
perf Examples for perf_events, the standard Linux profiler. Page including one-liners and flame graphs.
ktap Examples for the new lua-based Linux dynamic tracing tool. Page including one-liners, tools, and flame graphs.
Solaris/Mac OS X/FreeBSD - DTrace
Unix/Linux/Windows - Perl
Solaris - Perl/C
K9Toolkit A collection of Perl programs for Solaris that use Sun::Solaris::KStat. This includes tools to print load averages for CPU, memory, disks and network, to aid finding performance bottlenecks.
FindBill finds backup super blocks on a Solaris UFS for "fsck -o b=..." (if "newfs -N" dosen't help). example.
listprusage a C program to print process resource usage statistics such as minor faults and syscalls by PID. Solaris (uses procfs). Example here.
Unix/Linux - Bourne/Korn Shell
DtkshDemos a collection of X11 dtksh scripts. They include xvmstat - a GUI version of vmstat, and xplot - a generic data plotter. Written for any OS with dtksh.
BBaseline is a small script to create a baseline of the system's performance, by logging the output of several tools. By creating logs during normal and peak activity, this can assist performance tuning. Easy to customize the baseline content, and to grep the baselines. See the example output.
Windows - Delphi
Quick Text Toaster v1.0 An editor I wrote many years ago to grab text from corrupted files. Works with executables, documents, etc.
MSDOS - QBASIC
QBASIC CRO v1.2 I still find this old program amusing. It is a digital (on/off) CRO that samples the parallel port at 1KHz. screenshot.
Other
Guessing Game is written in awk C C++ csh Fortran java ksh Pascal Perl QBASIC sh and more as a language comparison.
Misc